About Marlynn's BuroPLUS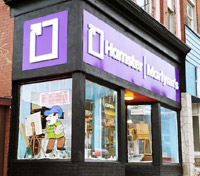 BuroPLUS is a 100% Canadian company that offers more than 12,000 products to its customers, in all categories: Computer supplies, Printing cartridges and Supplies, Office equipment, Writing products, Stationery, Office accessories, Furniture, Fasteners, School supplies, Games and Gifts. You will find at BuroPLUS a broad range of products from the most reputable brands in our industry at huge savings to you.
Founded almost 30 years ago, Marlynn's has built a reputation for being competitively prices and customer service oriented. Although we are part of the largest buying group in Canada, we maintain an independent and family owned business that focuses on providing quality products with excellent prices. Because we belong to such a large buying group we have the power to negotiate the best rates on 1000's of leading manufacturers. We take pride in passing these price breaks down to all our customers.
Over the years Marlynn's has gained enormous respect from consumers and businesses alike. This is due to our exclusive range of in-house products that are available to purchase on the spot at our competitive prices. We pride ourselves in being available to the community and deliver excellent customer service to all our customers. As an added bonus, we also offer a delivery service to the local area at no additional charge. We look forward to meeting all of your Office, Business and School needs.
Contact Information:
Email: info@marlynns.ca
Phone: 705-549-8881
Toll free: 1-877-MAR-LYNN
Fax: 705-549-5075
Address: 71 rue Main Street
Postal code: L9M 1S8
City: Penetanguishene
Province: Ontario
Hours of Operations:
Mon: 8:00 am - 5:30 pm
Tue: 8:00 am - 5:30 pm
Wed: 8:00 am - 5:30 pm
Thu: 8:00 am - 5:30 pm
Fri: 8:00 am - 5:30 pm
Sat: 9:30 am - 12:30 pm
Sun: Closed